Fund-Raising Opportunity
Are you an organization (sports team, elementary school, etc), individual or marketing sales representative that is interested in making money off of every annual or monthly parent membership you generate for www.KeikiSitters.com?
Fund-Raising through www.KeikiSitters.com is a great opportunity to help families relieve stress and improve the community. In addition to raising money for your cause www.KeikiSitters.com donates 10% profits to local charities.
This service will literally sell itself. Often times all you have to ask is, "Need A Sitter?" and parents will be incredibly enthusiastic about the idea they can have access to over 400 sitters that have all returned a clean background check and have their information available online. This service is a great relief to a parent in need of a sitter.
Mission Statement
Keikisitters.com is a local service helping families find experienced, reliable, all around wholesome sitters for their children & pets. On the other end of the spectrum we help sitters find dependable, good-natured families to work for. Participating in community fund-raisers & donating 10% profits to local charities, Keikisitters.com is dedicated to increasing the well being of all of Hawaii's Residents.
Fund-Raiser Highlights:
1. Give families the resource to obtain quality childcare & no longer be forced to rely on strangers to watch their young ones.
2. Give your organization the opportunity to raise important funds to meet this year's goal & increase its community involvement.
Optimal Grade Levels to Reach:
Preschool – 4th Grade
(Newborns – 10 years old)
This Fund-Raiser is:
Safe! No door-to-door sales
Quick! Within 14 days you will meet your fund-Raising goal
Easy! Keikisitters.com will supply ALL fund-raising materials
Keikisitters.com is not only a useful resource for families in this community but simply requires a
few moments of classroom acknowledgment to benefit this establishment through both monetary & social rewards.
Tracking Your Sales:
Promotional Code


Your organization will receive an Advertisement Code. When parents sign up they will use your code giving your organization credit for the sale. In the above example, the code is 1234 and the organization is Mokapu Elementary School.
Partner Link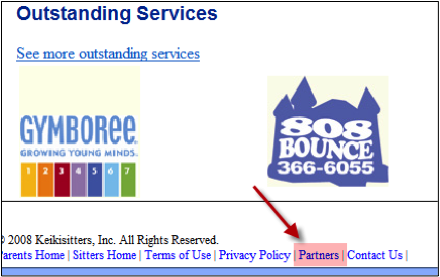 Click the link "Partners" on www.keikisitters.com home page. You can log in to track your fund-raising progress.
Your Funds

You will be able to view the parent that signed up, date and the amount of funds that your organization has raised. We will assign a commission, which will be a percentage of each sale. The earned commission is what will appear for you to view.
TAKE ACTION!
Unfortunately for many children, parents & schools only a limited number of fund-raisers are able to take place each school year. Give your surrounding community the opportunity to use our resources by contacting us as soon as possible! We will present you with a customized Strategic Fund-Raising Plan after conducting an in depth analysis on your organization.
Contact Us
Director of Fund-Raising: Kathy Custer
Phone: 808.861.7294
Email: Kathy@KeikiSitters.com